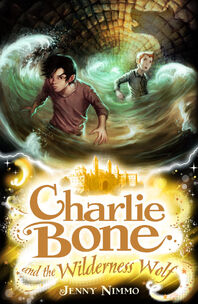 Charlie Bone and the Wilderness Wolf is the sixth novel in the Charlie Bone series.
The prequel of this book is Charlie Bone and the Hidden King, and its sequel is Charlie Bone and the Shadow of Badlock.
Plot Summary
The story starts with Charlie Bone's Uncle Paton and Charlie at Charlie's old home. They find that the home has been searched and Charlie spots two "not quite humans" running off. Meanwhile, a strange new boy named Dagbert Endless has enrolled at Bloor's academy. Dagbert is seen hanging around with Manfred, so Charlie then considers him untrustworthy. Unfortunately, Charlie has been assigned to show him around Bloors, and accidentally lets a few things slip about what has happened in the past, and discovers that Dagbert's endowment is drowning.
Charlie then meets Mrs. Kettle, a friend of Cook's. Mrs. Kettle gives him an old black kettle that tells when Danger is near or the circumstances are dangerous. Then, Charlie's friend Billy Raven, an albino gifted with speaking to and understanding animals, hears a sort of wolf howling help in the distance, but cannot identify the voice.
Charlie concludes that it is Asa Pike, a boy who changes shape at dusk and whom the Bloors are angry with for helping Charlie find his father and rescue his mother.
Charlie is determined to rescue Asa. He also helps construct an invincible sword for a mysterious knight. Charlie and Billy then go to rescue Asa, but Dagbert attempts to drown. They are saved by Tancred Torsson, a weather monger. Asa escapes and life returns to normal, for now...
It is also known as Charlie Bone and the Beast in the British version.