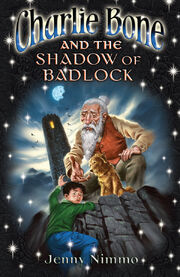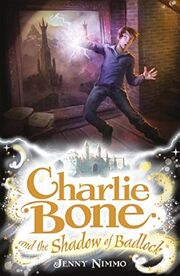 Charlie Bone and the Shadow of Badlock is the seventh book in the Charlie Bone Series.
It's prequel is Charlie Bone and the Wilderness Wolf, and the sequel of it is Charlie Bone and the Red Knight (the final book).
Plot Summary
It begins with a prologue about the Yewbeams' ancestor, Otus Yewbeam, running away from Count Harken's castle in Badlock, aided by Tolemeo, one of the Red King's younger and good sons, and Owain, his nephew. But Otus is not able to get away and is captured.
Plot twists include The Pet Cafe going out of business, Dagbert Endless getting the golden sea-urchin he lost in the sixth book back, Tancred Torsson almost drowing, meeting the Yewbeams' ancestor Otus Yewbeam, Billy Raven getting trapped in Badlock, Charlie Bone meeting Mr. Bittermouse, and Benjamin Brown's mum meeting Mrs. Kettle.
It is also known as Charlie Bone and the Shadow in the U.S. version.
Seqeuls and Preqeuls
Charlie Bone and the Time Twister
Charlie Bone and the Castle of Mirrors
Charlie Bone and the Hidden King
Charlie Bone and the Wilderness Wolf