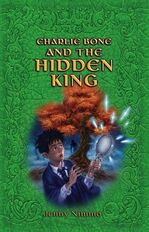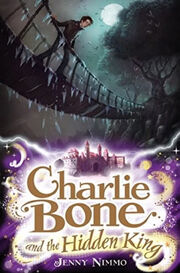 Charlie Bone and the Hidden King is the fifth novel in the Charlie Bone series.
Its prequel is Charlie Bone and the Castle of Mirrors. Its sequel is Charlie Bone and the Wilderness Wolf.
This story takes place in January 2004.
Synopsis
Plot Summary
Its prologue is from the magician Mathonwy's view. He describes the walk in which his friend, the Red King, turns into a tree. The story itself begins with The Flames begging Tancred Torsson to make it snow, so that a witch, later revealed to be Miss Chrystal, won't find the mirror of Amoret. However, it barely hampers her and she finds it in the ruin.
Miss Chrystal uses the mirror, and unleashes the Count Harken of Badlock upon the city.
Charlie is closer than ever to finding his father, but the Count is proving a difficult obstacale to pass, the Count enchants Charlie's mother making her forget Lyell.
Olivia steals the Mirror of Amoret and after a large battle in which Gabriel wears the Red King's cloak the mirror is broken. But it had already told Charlie that his father was Mr. Pilgrim.
Characters
Animals
Teachers in Bloor's Academy
Sequels and Prequels